Not to be confused with the similarly sounding Super Shaggy Sandwich from the other Scooby-Doo, Where Are You! episode, Hassle in the Castle.
This needs a stretch. (Feel to remove when satisfied of completion.)
Needed: Ingredients.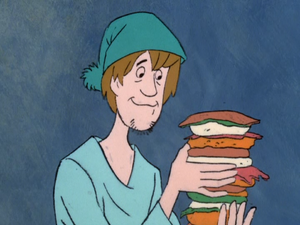 The Shaggy Super Sandwich is a sandwich created by Shaggy Rogers.
Ingredients
History
Scooby-Doo, Where Are You!
Season one
Before Shaggy went to bed in the mansion of Col. Beauregard Sanders, he made himself a large sandwich with the final ingredient being fish food he found beside a fishbowl. He didn't notice the goldfish inside, who wasn't pleased, and snapped its teeth viciously within its fishbowl, seemingly bringing an end to Shaggy's snack.
Appearances
Ad blocker interference detected!
Wikia is a free-to-use site that makes money from advertising. We have a modified experience for viewers using ad blockers

Wikia is not accessible if you've made further modifications. Remove the custom ad blocker rule(s) and the page will load as expected.