This needs a stretch. (Feel to remove when satisfied of completion.)
Needed: History is incomplete.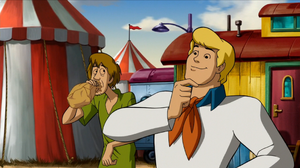 A sickness bag (also known as a barf bag) is a small bag for people who hyperventilate,[1] or may throw up.[2]
Physical appearance
It is a paper bag, which can either be white,[3][2] or brown.[1]
History
What's New, Scooby-Doo?
Season two
While on the plane to Antarctica, Scooby-Doo tried to entertain Little Pete, by popping a paper bag.[4]
Big Top Scooby-Doo!
Insert details here. (Big Top Scooby-Doo!)
Scooby-Doo! and KISS: Rock and Roll Mystery
While riding in the KISScraft, Shaggy threw up in the KISS World Barf Bag.[2]
Scooby-Doo! Shaggy's Showdown
After discovering the Crazy Q Ranch's website font was based on El Kabong, Velma went frantic over it, leading her to breath into a sickness bag.[5]
Appearances
See also
References
External links
Ad blocker interference detected!
Wikia is a free-to-use site that makes money from advertising. We have a modified experience for viewers using ad blockers

Wikia is not accessible if you've made further modifications. Remove the custom ad blocker rule(s) and the page will load as expected.