The Slime Mutant was the disguise of Prof. Emmanuel Raffalo.
Physical appearance
The Slime Mutant is a humanoid skeleton covered in a green slime.
Powers and abilities
The Slime Mutant could shoot large amounts of a liquid which can cocoon people. The liquid was revealed to be Fruitmeir's dessert.
History
Scooby-Doo! Mystery Incorporated
Season one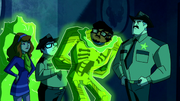 The Slime Mutant lurked below Crystal Cove and attacked people underground. Mystery Incorporated revealed that it Prof. Emmanuel Raffalo in disguise as the Slime Mutant, using passageways from Fruitmeir's to the sewer system to steal from the Crystal Cove bank. (Beware The Beast From Below)
Post-Nibiru
When the Evil Entity was destroyed it altered reality for all of Crystal Cove; meaning Prof. Raffalo didn't try to scam the town as the Slime Mutant.
Appearances
Notes/trivia