This needs a stretch. (Feel free to remove when satisfied of completion.)
Needed: * Personality.
Snow monster (Be Cold, Scooby-Doo!)
Vital Statistics
Alias
Mr. Roundy
Species
Snow creature
Gender
Male
Eye color
Light blue (black sclera)
Other Statistics
Identity
Heidi Ho Swift
Reason
To get rid of the tourists and the research station that were blocking the completion of the Double Black Diamond slope
The snow monster was the disguise of Heidi Ho Swift. She was actually wearing a snowman called Mr. Roundy as a suit.
Physical appearance
He has blue glowing eyes with a carrot for a nose has sharp teeth and three ice goatee on his chin wears a patched hat and scarf has twigs for arms and has blue spines on his back.
Personality
Insert details here.
History
Be Cool, Scooby-Doo!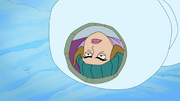 The snow monster first attacks a man looking for snowman decorations when he tried to remove his nose.
He later chased Shaggy and Scooby while they were sliding down the slope, but they escaped the monster by jumping across a chasm.
Not long after he pursued them again into the woods, but they escaped again after a winter song.
The snow monster ambushed the gang at the top of the ski lift and chased them all over the slope until they finally lost him.
He showed up one more time when Fred acts as bait. He avoids the traps set up by the gang and dodged the snowballs thrown by Daphne. With only one left she throws it at Fred which causes him to wipe-out into a snowball bringing the monster, Shaggy and Scooby with him. They all crashed right by the lodge.
The snow monster was unmasked as Heidi Ho Swift who wanted to have the slopes all to herself by using the legend of the monster to scare away the tourists.
Appearances