This needs a stretch. (Feel to remove when satisfied of completion.)
Needed: History.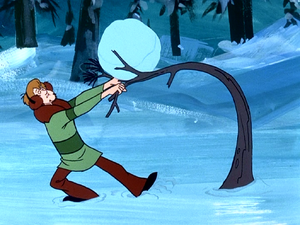 A snowball is a spherical object made from snow, usually created by scooping snow with the hands, and compacting it into a roughly fist-sized ball. The snowball is often used to engage in games, such as snowball fights. Snowball fights are usually light-hearted and involve throwing snowballs at one's friends or family.
A snowball may also be a large ball of snow formed by rolling a smaller snowball on a snow-covered surface. The smaller snowball grows by picking up additional snow as it rolls. Often a snowman can be created using this method of snowballing, to create the sections needed to build the sculpture.
History
Scooby-Doo, Where Are You!
Season one
Insert details here. (That's Snow Ghost)
Appearances
References
External links
Ad blocker interference detected!
Wikia is a free-to-use site that makes money from advertising. We have a modified experience for viewers using ad blockers

Wikia is not accessible if you've made further modifications. Remove the custom ad blocker rule(s) and the page will load as expected.