This needs a stretch. (Feel free to remove when satisfied of completion.)
Needed: Physical appearance.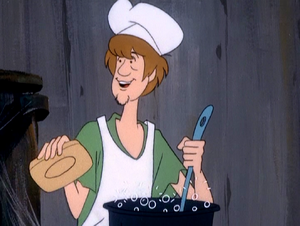 In chemistry, soap is a salt of a fatty acid. Soaps are mainly used for surfacants for washing, bathing, and cleaning.
Physical appearance
Insert details here.
History
Scooby-Doo, Where Are You!
Season one
It was used in a trap to capture the Ghost of Captain Cutler.[1]
Shaggy Rogers and Scooby-Doo were forced to cook for the Ghost of Redbeard and his men, and since they thought they cooking for real ghosts, they didn't think the latter would mind a big bar of soap. When Redbeard told Shaggy and Scooby to test it for him, they hiccuped bubbles, which they used as an escape.[2]
Scooby-Doo used it in his evening bath at Colonel Beauregard Sanders's mansion.[3]
Scooby-Doo and Scrappy-Doo (second series)
While running away from a hostile orderly, Shaggy slips on a bar of soap, which Scooby accidentally swallowed and started hiccuping bubbles amusing his baby nephew Scrappy. (Scrappy's Birthday)
The New Scooby and Scrappy Doo Show
Insert details here. (Scoobsie)
Appearances
Notes/trivia
References
External links