This needs a stretch.
Needed:
* Personality.
* History.
Space Ape
Vital Statistics
Species
Alien
Gender
Male
Eye color
Green (purple sclera)
Other Statistics
Identity
Reggie the chimp (small version);
Janet Lawrence (large versions)
Reason
To prevent a space mission she wasn't ready for
Powers and abilites
Rapid growth; poison touch
The Space Ape appeared to be a fast-growing space creature that hatched from an egg. It turned out to be Janet Lawrence in disguise. Reggie the chimp was also used for the shorter version.
Physical appearance
The space ape has dark purple eyes with green slashes on them, a lighter purple skin with light green spots and only three sharp teeth on his top jaw in the middle.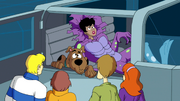 Personality
Insert details here.
Powers and abiliities
Rapid growth: there were several versions of the monster, the first played by Reggie and the others by Janet (on stilts for the largest version).
Poison touch: she had a chemical that could cause an allergic reaction.
History
What's New, Scooby-Doo?
Season one
It was a series of tricks by Janet; first she faked the egg-hatching, then used trained Reggie for a small form of the monster, then herself in costume as the large form. This was to prevent a E.T.I.S. space mission for which her project was not ready.[1]
Appearances
References