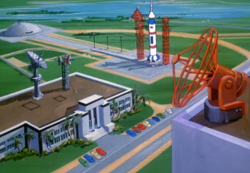 The space center is a launch point for space missions. It has exhibits open to the public representing previous missions.
Employees
Three unnamed technicians
History
The Richie Rich/Scooby-Doo Show
Season one
Shaggy Rogers, Scooby-Doo, and Scrappy-Doo came to the center to look at the exhibits. When Scooby accidentally got loaded onto a Mars rocket, and Shaggy and Scrappy went after him, all three got launched on a mission to Mars. along with a robot.
Appearances
Ad blocker interference detected!
Wikia is a free-to-use site that makes money from advertising. We have a modified experience for viewers using ad blockers

Wikia is not accessible if you've made further modifications. Remove the custom ad blocker rule(s) and the page will load as expected.