This needs a stretch. (Feel to remove when satisfied of completion.)
Needed: History.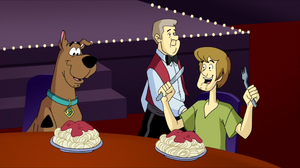 Spaghetti is a long string-like pasta.
History
What's New, Scooby-Doo?
Season one
Scooby-Doo and Shaggy Rogers were served spaghetti at the Spectacular Spackle Dome, during the act of the bad stage magician, Mr. Wacky Pants. But they don't get a chance to eat it because they're whisked on top on stage as "volunteers" for the Zig Zag trick.[1]
At one point while being chased by the "living" dolls of a mall, a plate of spaghetti was one of the foods Shaggy picked up, while he and Scooby ran through the food court.[2]
Insert details here. (Pompeii and Circumstance)
Appearances
References
External links
Ad blocker interference detected!
Wikia is a free-to-use site that makes money from advertising. We have a modified experience for viewers using ad blockers

Wikia is not accessible if you've made further modifications. Remove the custom ad blocker rule(s) and the page will load as expected.