This needs a stretch. (Feel free to remove when satisfied of completion.)
Needed: History is incomplete.
"The Spooky Space Kook" and "Space Kook" redirects here. For the episode, see Spooky Space Kook (episode). For other uses, see Spooky Space Kook (disambiguation).
Spooky Space Kook
Vital Statistics
Species
Alien/ghost
Gender
Male
Eye color
Yellow
Other Statistics
Identity
Henry Bascombe
Reason
To get land cheaply
Powers and abilities
Glowing fingerprints and footprints
The Spooky Space Kook was the disguise of Henry Bascombe.
Physical appearance
It appeared to be a ghostly apparition of a humanoid male. More in depth, it had a skull with huge, dull, pale yellow eyes, inside of a blue spacesuit.
Powers and abilities
The Spooky Space Kook left glowing footprints and fingerprints that dissipate after an undetermined time. This was later revealed to be due to rubber gloves and boots dipped in phosphorous.
Personality
It tried to scare off snoopers with its high-pitched laugh.
History
Scooby-Doo, Where Are You!
Season one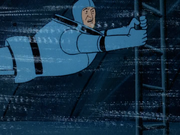 The Spooky Space Kook terrorized a local airfield.
When Scooby-Doo managed to get the Spooky Space Kook trapped in an air tunnel, the costume fell off, revealing the identity of Henry Bascombe, the next door neighbor of a local farmer. He was trying to scare the farmer and the Air Force into selling their lands cheap.
Appearances
Other versions
Gold Key Comics adaptation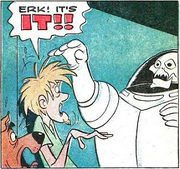 Insert details here. (SDWAY (GK): The Spooky Space Kook)
Archie Comics adaptation
Insert details here. (SD (Archie Comics): Spooky Space Kook)
Notes/trivia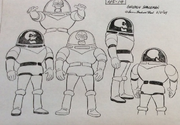 In other languages
| Language | Name | Meaning |
| --- | --- | --- |
| Spanish (Latin America) | El Fantasma de Otro Mundo | Ghost of Other World |
| Polish | Kosmiczne straszydło | Spaceship Bogeyman |
| Portuguese (South America) | O Fantasma Espacial | The Space Ghost |
| Slovenian | Fantom iz Drugega Sveta | Phantom from the Other World |
References