This needs a stretch.
Needed: Ingredients.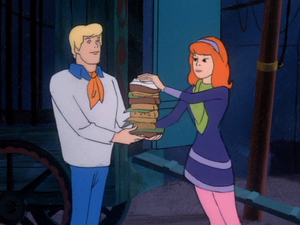 The Super-duper Hero Sandwich was a bribe for both Scooby-Doo and Shaggy Rogers.
Ingredients
History
Scooby-Doo, Where Are You!
Season one
This was used to bribe the fastest runner, Scooby-Doo, to trap the Ghost Clown into a cage; Shaggy was enthralled by the size of it, though, and said he was a 'tracks man. Fred Jones and Daphne Blake told them they could split it.[1]
Appearances
Notes/trivia
It's unknown if they even split the sandwich (because it wasn't shown on-screen), as Shaggy says about going back to it in the cage (the same one that the Ghost Clown balloon would be caught in). But there would be no reason why it would be there.
References