Not to be confused with the similarly sounding Shaggy Super Sandwich from another Scooby-Doo, Where Are You! episode, A Night of Fright is No Delight.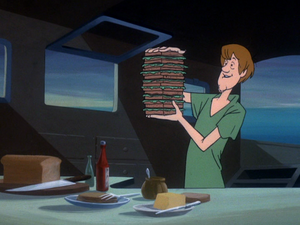 A Super Shaggy Sandwich is a double triple-decker sardine and marshmallow fudge sandwich of Shaggy Rogers's own creation.
Ingredients
History
Scooby-Doo, Where Are You!
Season one
After Velma Dinkley stirred Shaggy awake while sleeping in the gang's yacht, he decided to make a sandwich of his own design. Unfortunately, Scooby-Doo got sight of it and ate the whole thing while he wasn't looking. Shaggy mused over the olive that was left, but Scooby quickly ate that, too.[1]
Appearances
Notes/trivia
The contents Shaggy mentioned wasn't even seen in his sandwich.
References