Same as the Feist home?
They look so identical that I'm almost certain they are the same place. Trees would have to have been removed, but that is all. Does this mean we should combine the pages and call this a Season One and Season Two location? --RockSunner (talk) 18:47, June 29, 2013 (UTC)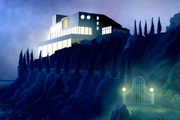 It looks like spot the difference. I knew there was two houses that looked identical and you've found them. You've made a very strong case, but I know that houses can be built to look the same so I'm not completely sure. This is the kind of thing you could ask Tony Cervone on Twitter, but the last few months he's been very inactive. When he does answer a question it's very simple ones. Which I believe this would be one too. -- Anythingspossibleforapossible (talk) 18:01, June 29, 2013 (UTC)
I tweeted "On SDMI, is the Dederdee house the same as the Feist house? They look the same." and got back from Tony Cervone: "They shouldn't be." --RockSunner (talk) 06:30, July 26, 2013 (UTC)
Ad blocker interference detected!
Wikia is a free-to-use site that makes money from advertising. We have a modified experience for viewers using ad blockers

Wikia is not accessible if you've made further modifications. Remove the custom ad blocker rule(s) and the page will load as expected.