| | |
| --- | --- |
| | This needs a stretch. (Feel to remove when satisfied of completion.) |
This page is for the Scooby-Doo and the Cyber Chase character. For other uses, see Tar Monster (disambiguation).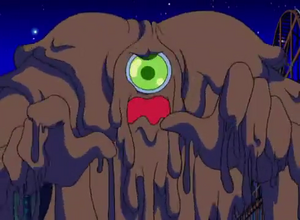 The Tar Monster was one of the bosses in the final level of Scooby-Doo and the Cyber Chase, and one of the minions of the Phantom Virus.
Physical appearance
Like his real world self, The Tar Monster is a big green-eyed Cyclops made of simulated tar.
Personality
Insert details here.
Powers and abilities
Can produce fluid tar out of his body.
History
Scooby-Doo and the Cyber Chase
He was the third monster, along with Gator Ghoul, both the real and cyber gang encountered while running from the phantom, He was first seen chasing the Shaggys into a "show us your strenght" game in which the shaggys disguise themselves as carnies and real world shaggy and hit his foot with mallet. he was seen again hiding in a cotton candy machine when the shaggy took a break and wanted to try some, only to be suck back into the machine and his whole body turn into a big cotton candy. he appeared one last time, along with the other monsters to capture the cyber gang, only to disappear after the real one got the Snax.
Appearances
Notes/trivia
Ad blocker interference detected!
Wikia is a free-to-use site that makes money from advertising. We have a modified experience for viewers using ad blockers

Wikia is not accessible if you've made further modifications. Remove the custom ad blocker rule(s) and the page will load as expected.