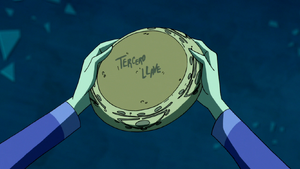 The Tercero Llave is Spanish for "Third Key". It is in the form of an old Mayan bowl.
History
Scooby-Doo! Mystery Incorporated
Season two
Francilee Jackson had the bowl concealed in her Gluten Demon costume, and it fell out when she was captured. She seemed in anguish at the thought of losing it.[1]
It appeared with dirt being kicked into it by El Fuchi in the time-frozen scene of the Alianza Misterio found by Scooby-Doo and Shaggy Rogers in one of the rroms of the sitting room.[2]
The gang packed it in a bag for their mission to find and destroy the Evil Entity.[3]
It was required to open the door to the Earth Dimension. It had to be filled with dirt and used to balance a scale before the door would open.[4]
Appearances
Notes/trivia
Like the other keys, the frozen scene associates it with a Greek element, in this case earth.
References
See also