The 13 Ghosts of Scooby-Doo (theme song)
Talk

0
| | |
| --- | --- |
| | This needs a stretch. |
The 13 Ghosts of Scooby-Doo theme song is the opening used for The 13 Ghosts of Scooby-Doo. The song was featured on the 1998 Kid Rhino soundtrack, Scooby-Doo's Snack Tracks: The Ultimate Collection.
Description
Fill this section with a description of what happens during the theme song.
Lyrics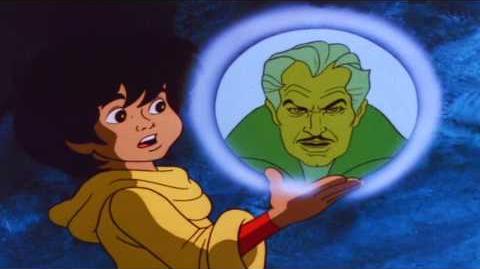 Vincent Ghoul: This is a warning to all living mortals that whosoever opens this chest of demons will release 13 of the most terrifiying ghost upon the face of the earth.
Weird: Lets get 'em Bogel.
Bogel: I'm with you, Weird.
All: Whooah!
Vincent: Only you can return the demons to the chest.
Shaggy: Why us?
Vincent: Because you let them out!
Scooby: Help!
Vincent: [Laugh] The 13 Ghosts of Scooby-Doo!