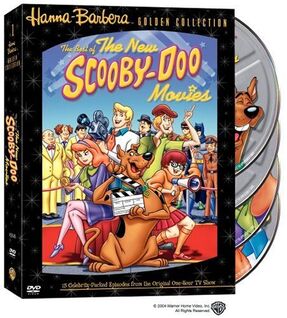 The Best of The New Scooby-Doo Movies is a 4-disc DVD containing fifteen episodes from The New Scooby-Doo Movies. It was released March 22, 2005 by Warner Home Video.
Warner Home Video originally planned to release a complete set of the series. However, most likely expensive royalties prohibited them from granting full permission for half of the guest stars, including from Charles Addams' estate and Sony (who currently owns the I Dream of Jeannie franchise). It is unknown if they will finally release the series in its entirety.
Contents
Episodes
Disc 1
Disc 2
Disc 3
Disc 4
Special features
Notes/trivia
The Spooky Fog of Juneberry is listed as The Spooky Fog.
Due to some episodes being cut, the opening theme song has also cut out all the celebrity guests (even the ones who do appear), being replaced with other scenes from the episodes.
In other languages
| Language | Name | Meaning | Notes | Distributor |
| --- | --- | --- | --- | --- |
| Greek | Οι Καλύτερες Στιγμές από τις Νέες Ταινίες του Scooby-Doo | The Best Moments from the New Scooby-Doo Movies | None. | Audio Visual Entertainment |