| | |
| --- | --- |
| | This needs a stretch. |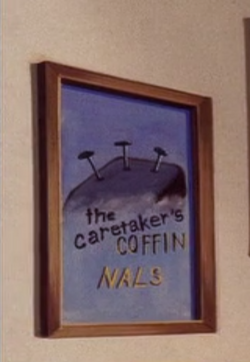 The Caretaker's Coffin Nails is a novel written by Ben Ravencroft. A framed picture of presumably the front cover is hung up on a wall, with some of his other works, in the study of his mansion.
History
Scooby-Doo and the Witch's Ghost
On the ride to Oakhaven, Velma Dinkley remarked that the scene where the caretaker's flesh dissolved was brilliant, but was cut off by Ben who said they made it.
Appearances
Notes/trivia
Ben seems uncomfortable hearing the retelling of the graphically gruesome (presumable) ending from Velma, and therefore likely relieved when they made it to Oakhaven at the same moment. The fact that he wrote it makes him a hypocritic of not wanting his stories being retold back to him. It could also be a clue to his actual evil nature.
The study is seen at both day and night, but during the latter, The Caretaker's Coffin Nails is replaced by The Catenate Mall (giving the wall a second mall story after The Dead Mall, although that has its own problems in the night scene).