The Computer Walks Among Us
Talk

1
| | |
| --- | --- |
| | This needs a stretch. |
Chronology
Previous episode

Next episode

The Computer Walks Among Us is the sixth episode of the second season of A Pup Named Scooby-Doo, and the nineteenth episode overall in the series.
Premise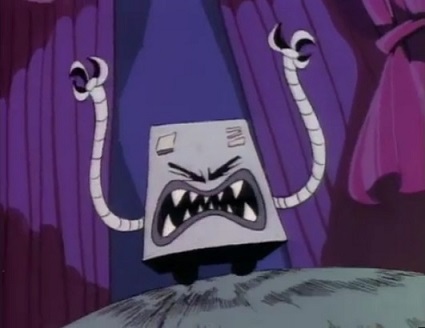 At a science project for Coolsville Jr. High's Brain Club, Velma invents the Dinkley 2000, a computer that can do it all, but soon she is framed for stealing when the computer goes wild.
Synopsis
Insert details here.
Cast and characters
Songs
| Song | Credits | Performed by |
| --- | --- | --- |
| "Micro Monster" | Credits | Performed by |
Villains
Dinkley 2000/Bruce Wormsley
Suspects
| Suspect | Motive/reason |
| --- | --- |
| Velma Dinkley | She was framed for stealing stuff. |
| Gus | Weird and spooky. Liked to build things. |
| Red Herring | As always. |
Culprits
Locations
Notes/trivia
Fred suspecting Red Herring in this episode is very justifiable because the robot embarassed Red at the competition so he might've wanted revenge
This is the first appearance of Gus. His second and last appearance is in Horror of the Haunted Hairpiece.
Animation mistakes and/or technical glitches
Inconsistencies/continuity errors and/or goofs/oddities
From a wide angle view everyone leaves the exit door in the auditorim, but close-up Mr. Mortorn is only just walking out, turning off the light as he leaves.
The Dinkley 2000 only picks up one locker, but during the scene it switches to three.
Velma stated that The Dinkley 2000 was programmed to do what she asked, but it obeyed Scooby's order to walk on high wire.
Home media
Quotes
Shaggy: (narration) Like, we were all at the Brain Club science show, that's where all the smart kids in school show all their latest inventions. And along with her parents, we were waiting to see Velma's entry. It was the best place to show my latest invention, a super-triple-deluxe sandwhich, to my pal, a pup named Scooby-Doo.