The Old Bell is a book in the library of Vasquez Castle.
History
Scooby-Doo, Where Are You!
Season one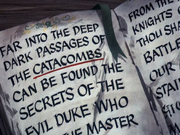 While stranded inside Vasquez Castle, the gang find it to be haunted by the Phantom. While investigating, they find a key with a message at the top of the handle saying "Second Passage of The Old Bell". They deduced that it meant the second passage of a book, and went to the library to look for it. They found the book with the word inside underlined, instructing them to go to the basement of the castle.
Appearances
Notes/trivia
In trying to give a hint in the clue, the key probably meant to find a passage in the second page of the book. Either that or there was bad communication between the writers and animators. Not only that, they're also half way through the book.
Ad blocker interference detected!
Wikia is a free-to-use site that makes money from advertising. We have a modified experience for viewers using ad blockers

Wikia is not accessible if you've made further modifications. Remove the custom ad blocker rule(s) and the page will load as expected.