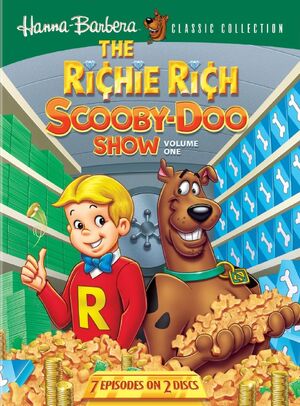 The Richie Rich/Scooby-Doo Show: Volume One is a two disc set containing seven episodes from The Richie Rich/Scooby-Doo Show. It was released May 20, 2008 by Warner Home Video.
Product description
TWO CARTOON ICONS, TOGETHER IN THEIR CLASSIC, RARELY SEEN SERIES!
Few remember that two formidable stars of TV, movies and comic books - Scooby-Doo and Richie Rich - fought ghosts and crooks together in a one-of-a-kind series. Richie has all the money in the world, but what he loves most is one Dollar - his faithful dog who helps take a bite out of crooks. Richie puts his fortune to good use developing the coolest crimefighting inventions (with occasional sweeping up by robot maid Irona). Meanwhile, Scooby-Doo and Shaggy are joined in their investigations by pugnacious nephew Scrappy-Doo, team players in the Fearless Detective Agency, and always solving - hilariously - the spookiest caseload in cartoondom. The riotous sleuths and the rich youth make for awesome animated fun in this Deluxe 2-Disc Set featuring the First 7 Episodes of this rare TV classic!
Episodes
Disc 1
Disc 2
Scooby's Bull Fright/Irona Versus Demona/Stow-Aways/Chef's Surprise/Long John Scrappy/The Snow Bounders
Scrappy's Birthday/The Abominable Snow Plan/Sir Scooby And The Black Knight/Miss Robot America/A Bungle In The Jungle/Constructo
Scooby In Wonderland/Counterfeit Dollar/Scooby's Fun Zone/The Greatest Invention in the World/Scooby's Fantastic Island/Who's Afraid of the Big, Bad Bug?
Special features
The Story of Richie Rich featurette
Notes/trivia
The episodes are put in completely random order.
Despite the DVD clearly writing The Richie Rich/Scooby-Doo Show, the menu's logo says The Richie Rich/Scooby-Doo Hour, another title for the show.
The Richie Rich episode The Robotnappers, Scooby-Doo is refered to by one of Richie Rich's friends as a four-legged animal who only cares about sleeping and eating. This is no coincidence, since the Richie Rich episodes are packed with the Scooby and Scrappy-Doo ones.
The back cover description (see above) refers to Scooby, Shaggy and Scrappy as the Fearless Detective Agency, although they were named that next series, The Scooby & Scrappy Doo Puppy Hour.
Dollar, Richie Rich's dog, is voiced by Frank Welker.
This is the only Scooby-Doo DVD not to feature Shaggy on the front cover.