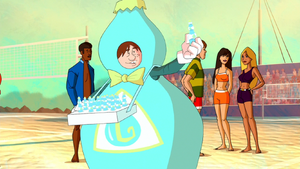 Trickell's Trickquid is a bottled water product by Peter Trickell. It is advertised in a way that misleads the ignorant into thinking it's healthier than regular water.
History
Scooby-Doo! Mystery Incorporated
Season one
Trickell's Trickquid was promoting a girls' volleyball tournament at the Crystal Cove State Beach, during which a half-crab, half-man kidnapped the opponents. This was eventually revealed to be the doing of Bud Shelton, who claimed Trickell stole his idea; was originally going to be called "Bud's Bloosh", a working title. To add insult to injury, he worked as the company's mascot.[1]
Appearances
Notes/trivia
The deceitfulness of the product, is in the name.
The slogan seems to be, "What Mother Nature drinks when she doesn't want to look fat", and advertised as "Now in wet and extra wet" and "Non-fat liquid diet no-calorie gluten free moisture supplement."
References
Ad blocker interference detected!
Wikia is a free-to-use site that makes money from advertising. We have a modified experience for viewers using ad blockers

Wikia is not accessible if you've made further modifications. Remove the custom ad blocker rule(s) and the page will load as expected.