Uncle Leon
Vital Statistics
Species
Human
Gender
Male
Hair color
Brown
Eye color
Black
Other Statistics
Occupation
Hotel manager (formerly)
Family
Lisa Vanhoff (niece)
Uncle Leon was the manager of a hotel on Great Skull Island, until his neice, Lisa Vanhoff, came of age at 18.
Physical appearance
Insert details here.
Personality
Insert details here.
History
The Scooby-Doo Show
Season two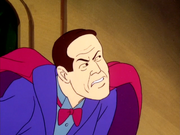 He didn't want her to take over running the hotel, so he tried to get her to think she was a vampire, so she would want to be put away for her own protection.
His scheme had several elements: fake newspaper clippings, faked images of her grandfather as a vampire, six bats from a pet shop on the mainland (sent via a coffin which he opened during the trip from the ferry's dock to the hotel), an ultrasonic whistle to control the bats, and a post-hypnotic suggestion on Lisa that she would put on vampire fangs when she heard the phone ring and her wrist watch alarm go off. He dressed up as Gramps the Vamp as part of the plan.
Appearances
In other languages