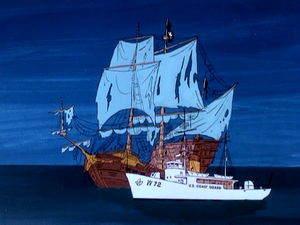 The United States Coast Guard is a maritime law enforcement of the United States, operating in both domestic and international waters.
History
Scooby-Doo, Where Are You!
Season one
The Sheriff and the Coast Guard were baffled by the mysterious disappearances of yachts (which Mystery Inc. had found out had been due to thefts done by Captain Cutler and his wife).[1]
An officer arrested C.L. Magnus and his henchmen.[2]
The Scooby-Doo Show
Season one
An officer responded to the gang's SOS just after they caught Mr. Carp, Mr. McGil, and Mr. McFinn.[3]
Appearances
References
External links
Ad blocker interference detected!
Wikia is a free-to-use site that makes money from advertising. We have a modified experience for viewers using ad blockers

Wikia is not accessible if you've made further modifications. Remove the custom ad blocker rule(s) and the page will load as expected.