Hey there, S-D! fans! SonicFan here to announce that today (that's September 8, 2014) marks the big 3-0 to one of the best installments of the Scooby-Doo! saga.
It's called... *cue drum roll*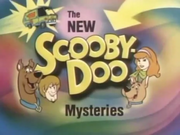 That's right. Thirty (30) years ago, NSDM made its debut on ABC on September 8, 1984.
What I liked about NSDM is the catchy theme, Velma and/or Fred making guest appearances in some episodes such as Happy Birthday, Scooby-Doo, and of course, the Dooby Doo Ado from the episode of the same name.
Personally, a gang of six members (which include Scooby, Shaggy, Scrappy, Fred, Daphne, and Velma) sounds better to me. (Twelve eyes are better than eight.)
Anyway, feel free to express what you liked or didn't like about The New Scooby-Doo Mysteries.
This is SonicFan signing off.
Ad blocker interference detected!
Wikia is a free-to-use site that makes money from advertising. We have a modified experience for viewers using ad blockers

Wikia is not accessible if you've made further modifications. Remove the custom ad blocker rule(s) and the page will load as expected.