This needs a stretch.
Needed: History.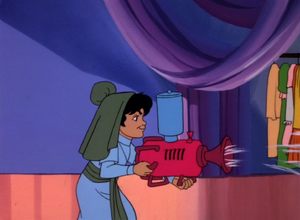 The Vacuu-Spook 2000 is a ghost capturing device used by Flim-Flam.
Physical appearance
The Vacuu-Spook 2000 is a red hand-held vaccum cleaner, with a jar-shaped glass container on top.
History
The 13 Ghosts of Scooby-Doo
The device was being pitched by an ex-vacuum cleaner salesman, showcasing it while the Marrakesh Paranormal Convention was in town. When Flim-Flam tested it out, he accidently sucked up Scooby-Doo.[1]
Appearances
References