This needs a stretch.
Needed:
* Personality.
Vampire (The Texas Tooth-Step)
Vital Statistics
Species
Vampire
Gender
Male
Hair color
Black
Eye color
Red
Other Statistics
Identity
Bold Gold CEO
Reason
To get the oil beneath the town
Powers and abilities
Control swarms of bats
The vampire was the disguise of an oil company executive.
Physical appearance
He looked like a classic vampire, with fangs and a cape.
Personality
Insert details here.
Powers and abilities
Control swarms of bats -- He sometimes had an accomplice release bats when he attacked, so it would look like he had summoned them.
History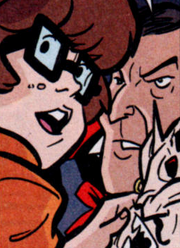 Scooby-Doo! (DC Comics)
The executive wanted the oil beneath the town, and he was trying to get the people to sell out to him. He dressed up as a vampire and started making young women of the town disappear.
Velma Dinkley found the women unharmed, locked in the basement of an old farmhouse nearby. She found the place because the vampire had red dust on his cape, and she knew where to look for that kind of soil.[1]
Appearances
References