This needs a stretch. (Feel to remove when satisfied of completion.)
Needed:
* Physical appearance; clothing.
* History is incomplete.
Wendel McWendel
Vital Statistics
Species
Human
Gender
Male
Hair color
Blond
Eye color
Black
Other Statistics
Occupation
Comic-book cartoonist (incarcerated)
Wendel McWendel is the creator of the Commander Cool comics.
Physical appearance
Wendel is a Caucasian male with blond hair.
Personality
Appears to be good-natured and appreciative of his fans because he created the comic book of Commander Cool. He hides his true nature, being geedy and sneaky, when he can't bring himself to sell his copy of the edition, until he plans to make fortune off all the others.
History
A Pup Named Scooby-Doo
Season one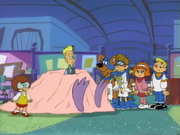 He didn't want to sell his only copy of Commander Cool first edition. But after seeing how everyone was willing to pay so much for it, he decided he would make a fortune selling all the other editions like it, leaving his the only one left. So he dressed up as Dr. Croaker to take everyone else's first edition of Commander Cool at the comic book convention. He first met Shaggy and Scooby when he signed his copy. He attempted to steal a copy which the gang claims that Shaggy bought a long time ago and forgot. But it was a trick by the gang when it was a fake with a bubble gum bomb hidden inside trapping him. Afterwards he was taken to prison.
Appearances
Notes/trivia
In real-life, a comic book artist can sometimes be seen as only one half of the creator of a character, because there's usually a writer making his or her own contributions, as well.
Ad blocker interference detected!
Wikia is a free-to-use site that makes money from advertising. We have a modified experience for viewers using ad blockers

Wikia is not accessible if you've made further modifications. Remove the custom ad blocker rule(s) and the page will load as expected.