This needs a stretch. (Feel to remove when satisfied of completion.)
Needed: History is incomplete.
Werewolf (Big Top Scooby-Doo!)
Vital Statistics
Species
Werewolf
Hair color
Dark brown
Eye color
Red
The werewolves were the disguises of Whitney Doubleday and his trained baboons.
Physical appearance
The werewolves were large dark brown fur wolves that have one desire: to steal jewelry. They had the capability of running at very high speed on all fours, and used their hind legs for jumping long distances.
Personality
The wolves had a savage personality, having a desire to create more of its kind in order to get what they wanted easier. Like many werewolves, they had a short temper and were likely to attack on sight.
History
Big Top Scooby-Doo!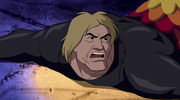 They were haunting a circus, stealing jewelry, and apparently creating more werewolves. The people they "converted" were actually kidnapped and tied up, and the disguised baboons wore their clothing.
Appearances
Ad blocker interference detected!
Wikia is a free-to-use site that makes money from advertising. We have a modified experience for viewers using ad blockers

Wikia is not accessible if you've made further modifications. Remove the custom ad blocker rule(s) and the page will load as expected.