Werewolf (Who's Afraid of the Big Bad Werewolf)
Talk

0
| | |
| --- | --- |
| | This needs a stretch. |
Werewolf (Who's Afraid of the Big Bad Werewolf)
Vital Statistics
Gender
Male
Hair color
Brown
Eye color
Black (red sclera)
Other Statistics
Identity
Unnamed sheep rustler
Reason
To keep intruders away from sheep smuggling operations
The Werewolf was the disguise of an unnamed sheep rustler. He was trying to stop intruders from discovering the sheep smuggling ring which was working in an old abandoned mill and harbor in the forest.
Physical appearance
Insert details here.
Personality
The sheep rustler kept in character until his live was in danger as he held on for dear life over a waterfall, crying out in his regular voice.
Powers and abilities
Insert details here.
History
Scooby-Doo, Where Are You!
Season two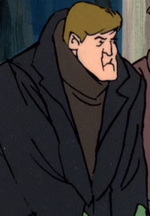 He wanted people to make it think that the ghost of Silas Long (a purported werewolf) had come back from the dead. In reality the entire thing was a hoax.
Appearances
Other versions
The Werewolf was a common villain throughout, apart from in Smuggler's Cove and the secret labs.
Notes/trivia
A monster resembling the Werewolf later made a cameo in Scooby-Doo! And The Goblin King as a patron of a monster bar that Shaggy and Scooby-Doo visited.
The Werewolf is technically a zombie, due to the fact that Scooby Doo and the gang found an open tomb. He still acts very much alive though.
The Werewolf in no way resembles an actual werewolf.
The werewolf recently had his hair cut off by Shaggy and Scooby but in one scene where the back of him is seen dealing with barrels his hair has returned, only moments later, he's bald again in a close-up. The werewolf's hair also reappears momentarily near the end of the episode as he sails down the waterfall over the rapids in his canoe, just after Shaggy and Scooby have been caught by the gang in a large net (again, well after Shaggy gave him his haircut).