When You Witch Upon a Star
Talk

0
| | |
| --- | --- |
| | This needs a stretch. |
Chronology
Previous episode

Next episode

When You Witch Upon A Star is the eighth episode of The 13 Ghosts of Scooby-Doo.
Premise
Vincent's monitor of spirit world activity reveals that Marcella, an escaped demon, has given the three inept Brewski Sisters the Black Book of Spells and instructions to cast spell number thirteen at Stonehenge at midnight. While Scooby and the gang follow the sisters to the ends of the earth trying to nab the spellbook, Vincent goes to the Zone of Eternal Evil—where he quickly befriends a small creature named Idesvigg, and is subsequently captured by Marcella.
Synopsis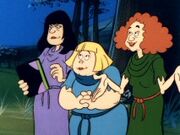 Insert details here.
Cast and characters
Villains
Locations
Continuity
Notes/trivia
Animation mistakes and/or technical glitches
Inconsistencies/continuity errors and/or goofs/oddities
Home media
Quotes
References