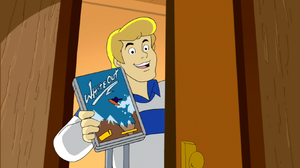 White Out is an old snowboarding film, possibly starring Avalanche Anderson.
History
What's New, Scooby-Doo?
Season one
When Velma Dinkley was trying to rest due to a cold, Fred Jones walked in telling her that if she couldn't sleep she could watch some the mountain resort's old snowboarding movies on DVD; White Out was one of them.
Appearances
References