Whitney Doubleday
Vital Statistics
Species
Human
Gender
Male
Hair color
Dusty brown
Eye color
Black
Other Statistics
Occupation
Circus animal trainer (incarcerated)
Affiliation
Brancusi Circus (formerly)
Whitney Doubleday was an animal trainer for the Brancusi Circus.
Physical appearance
He is a muscular Caucasian male with shoulder length dusty brown hair.
Personality
He claimed to be happy that he was about to retire, but it was an act.
History
Big Top Scooby-Doo!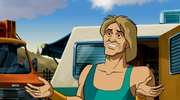 He conspired with Archambault to carry out jewel robberies, using werewolf-disguised baboons. Each time he kidnapped someone from the circus he dressed another baboon in a werewolf costume and their clothes to give the impression that the werewolf was converting others.
He was caught when Scooby-Doo and Shaggy Rogers realized what the "werewolves" really were and that they could be given orders to stop in Spanish. Archambault turned against him and shot Doubleday with a tranquilizer dart before he could talk too much and incriminate him. He was then taken away in an ambulance.
Appearances
In other languages
Ad blocker interference detected!
Wikia is a free-to-use site that makes money from advertising. We have a modified experience for viewers using ad blockers

Wikia is not accessible if you've made further modifications. Remove the custom ad blocker rule(s) and the page will load as expected.