This needs a stretch. (Feel free to remove when satisfied of completion.)
Needed: Physical appearance; clothing.
Workman 1 (Beware the Beast from Below)
Vital Statistics
Species
Human
Gender
Male
Hair color
Brown
Eye color
Black
The workman lives in Crystal Cove.
Physical appearance
He is Caucasian and appears to be in his at least his thirties. He has brown hair and sideburns.
Personality
He's of low intelligence as he thought a broken wall underground led to another dimension.[1]
History
Scooby-Doo! Mystery Incorporated
Season one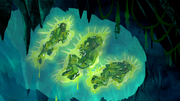 While cramping his back with a jackhammer in the sewer, as his boss enjoyed a smoothie. As the foreman relaxed against a wall, it immediately collapsed, with him blaming his two subordinates, but the one of low intelligence said they had barely touched, before wondering if they had broken into another dimension. They walked through and found radioactive barrels, to which the foreman ordered them to be opened. The dumb one used the back of a hammer to pop the lid off one of them, which led to the discovery of the Slime Mutant, who cocooned them in a dehydrating substance.
During the gang's investigation, Fred Jones, Jr. stole one of the bodies from the ambulance and shoved it in the back of the Mystery Machine to be taken to Professor Emmanuel Raffalo to be studied.[1]
He was placed under Aphrodite's love spell, with the rest of the town. In the climax of Aphrodite's plan to be crowned, she had the workman, his co-worker, and some other citizens carry on her on a throne. At this point, the gang sprayed all the victims with an antidote.[2]
Appearances
Notes/trivia
When Emmanuel Raffalo fakes getting cocooned he still looks distinguishable, but none of the construction workers can be told apart, despite looking very distinct.
See also
References