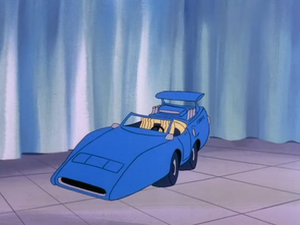 The XYZ Sports Coupe is a sports car invented by Dr. Sprocket.
History
The New Scooby and Scrappy Doo Show
The gang were head to the Annual Auto Show to interviewed Dr. Sprocket and his assistant Crocker Pitt, about the unveiling of the new supercharged XYZ Sports Coupe. While there, they run into his blue ribbon rivall, Ingrid Ignition, and heared about the threats from the Specter of Sports Cars, who had stole the blueprints to his car.
Appearances