This needs a stretch. (Feel free to remove when satisfied of completion.)
Needed: .
*Personality.
* History is missing details.
Zeke (Which Witch is Which?)
Vital Statistics
Species
Human
Gender
Male
Hair color
Black
Eye color
Black
Other Statistics
Occupation
General store owner (incarcerated)
Affiliation
Zeb Perkins
Zeke dressed up as the Zombie. In this disguise, he acted as the minion of his partner, Zeb Perkins, who was in the disguise of a witch.
Physical appearance
Zeke is a middle-aged male, with black hair, and a beard. He wears black boots, gray pants, a brownish hat, a black belt, and a red coat with a white shirt underneath.
Personality
Insert details here.
History
Early life
Years ago, he and Zeb hijacked a bank's armored truck and sunk it into a swamp by Swamp's End. They waited all that time until it was safe to search for it again, but they couldn't find it. Six months ago they invented the Witch and Zombie disguises to scare everyone away, so they could search for it uninterrupted.
Scooby-Doo, Where Are You!
Season one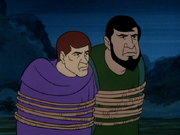 Once the gang showed up, though, they were inevitably caught and taken away by a sheriff.
Appearances
Notes/trivia
Since Zeke and Zeb would be in hiding from the law, it's unknown if Zeke became the owner of the general store in that time, or simply occupied it once the all the townspeople were scared away. Although, the fact that Zeb had a mailbox with his name on it, would suggest the former.
Velma refers the Witch's identity as Zeke, but this is clearly wrong since the Witch was unmasked as Zeb.